Bryan Gruley Yellow Chair Series Event
We are pleased to announce that Bryan Gruley will join us as a guest in our Yellow Chair Series to celebrate the release of Skeleton Box, the latest in the Starvation Lake mystery series: the first two books in the series, Starvation Lake and The Hanging Tree are among our best sellers.
Mr. Gruley will join us on Thursday, June 7th from 7:00 to 8:00 p.m. for a free wine and cheese event. Reservations are requested for this event, you can reserve your space by calling us at 231-347-1180 or sending us an email. 
Matt thinks that this is the best book in the Starvation Lake series yet and what follows is the synopsis.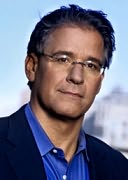 A series of mysterious break-ins is plaguing the small town of Starvation Lake. Someone is slipping into the homes of elderly people when they're out playing Bingo. Oddly, the intruders take nothing, despite evidence that they rifle through personal files.
Worry turns to panic when a break-in leads to the death of a beloved citizen. Phyllis Bontrager is found dead in the home of her best friend, Bea Carpenter, mother of Gus Carpenter. Bea, suffering from worsening dementia and under the influence of sleeping pills, remembers little of the break-in. Her son, editor of the local newspaper, must pursue a terrible story: the death of a woman he has known all his life, who also happens to be the mother of his ex-girlfriend, Darlene.
With the help of Luke Whistler, an ex-Detroit Free Press reporter who came north looking for slower days and some old-fashioned newspaper work, Gus sets out to uncover the truth behind Mrs. B's death and the "Bingo Night Break-Ins." What he doesn't know is that Whistler has his own agenda, and the secrets he's determined to unearth—involving the long-ago killing of a nun—could forever change Gus's perceptions about Starvation Lake and even his own family.
Event date:
Thursday, June 7, 2012 -

7:00pm

to

8:30pm

$25.00
ISBN: 9781416563662
Availability: Hard to Find
Published: Gallery Books - June 5th, 2012
Anthony and Barry Award-winning author Bryan Gruley returns with the third novel in his critically acclaimed Starvation Lake mystery series.

Does Gus Carpenter really want to know what's inside the skeleton box?
---

$17.00
ISBN: 9781416563624
Availability: On Our Shelves Now
Published: Gallery Books - March 3rd, 2009
Finalist for the Edgar Award for Best First Novel, Harlan Coben meets early Dennis Lehane in this "smashing debut thriller" (Chicago Tribune), set in a small northern Michigan town by a Pulitzer Prize–winning journalist.

In the dead of a Michigan winter, pieces of a snowmobile wash up near the crumbling, small town of Starvation Lake—the same snowmobile that
---

$15.00
ISBN: 9781416563648
Availability: On Our Shelves Now
Published: Gallery Books - August 3rd, 2010
WHEN GRACIE McBRIDE, the wild girl who had left town eighteen years earlier, is found dead in an apparent suicide shortly after her homecoming, it sends shock waves through her native Starvation Lake. Gus Carpenter, executive editor of the Pine County Pilot, sets out to solve the mystery with the help of his old flame and now girlfriend, Pine County sheriff deputy Darlene Esper.
---