The Complete Peanuts 1959-1962: Vols. 5 & 6 Gift Box Set - Paperback (Paperback)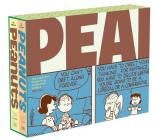 Description
---
Annual boxed set of this volume plus the spring's previous volume.
Snoopy climbs atop his doghouse, Sally makes her debut, Lucy sets up her psychiatric booth, Linus begins his Great Pumpkin vigil, "Happiness is a Warm Puppy," Frieda and Faron are introduced, and much more.

About the Author
---
Charles M. Schulz
was born November 25, 1922, in Minneapolis. His destiny was foreshadowed when an uncle gave him, at the age of two days, the nickname Sparky (after the racehorse Spark Plug in the newspaper strip
Barney Google
).
In his senior year in high school, his mother noticed an ad in a local newspaper for a correspondence school, Federal Schools (later called Art Instruction Schools). Schulz passed the talent test, completed the course, and began trying, unsuccessfully, to sell gag cartoons to magazines. (His first published drawing was of his dog, Spike, and appeared in a 1937
Ripley's Believe It or Not!
installment.) Between 1948 and 1950, he succeeded in selling 17 cartoons to the
Saturday Evening Post
—as well as, to the local
St. Paul Pioneer Press
, a weekly comic feature called
Li'l Folks
. It was run in the women's section and paid $10 a week. After writing and drawing the feature for two years, Schulz asked for a better location in the paper or for daily exposure, as well as a raise. When he was turned down on all three counts, he quit.
He started submitting strips to the newspaper syndicates. In the spring of 1950, he received a letter from the United Feature Syndicate, announcing their interest in his submission,
Li'l Folks
. Schulz boarded a train in June for New York City; more interested in doing a strip than a panel, he also brought along the first installments of what would become
Peanuts
—and that was what sold. (The title, which Schulz loathed to his dying day, was imposed by the syndicate.) The first
Peanuts
daily appeared October 2, 1950; the first Sunday, January 6, 1952.
Diagnosed with cancer, Schulz retired from
Peanuts
at the end of 1999. He died on February 13, 2000, the day before Valentine's Day—and the day before his last strip was published—having completed 17,897 daily and Sunday strips, each and every one fully written, drawn, and lettered entirely by his own hand—an unmatched achievement in comics.
Jazz pianist and singer Diana Krall's albums include The Look of Love, The Girl in the Other Room, From This Moment On, Quiet Nights and more. She has sold more albums than any other female jazz artist during the 1990s and 2000s. and is the the only jazz singer to have eight albums that debuted at the top of the Billboard Jazz Albums. She has won multiple Grammy Awards and  Juno Awards.
Whoopi Goldberg
is a household name; she's one of the few people to have won an Emmy, Grammy, Oscar, and a Tony. She currently hosts the talk show
The View
.